Repossessed Houses In Glasgow, Scotland
If you're in the market for a new home in Scotland's largest city, you may wish consider researching repossessed houses for sale in Glasgow. Repossessed properties can be an attractive option for buyers who are looking to find a home at an affordable price.
However, it is important to understand the ins and outs of purchasing a repossessed property before making a decision. In this article, we will guide you through the process of buying repossessed houses for sale in Glasgow and provide you with the information you need to make an informed decision.
The Property Market In Glasgow
When considering buying a property in Glasgow, it is important to know the average property prices in different areas of the city. The table below provides an overview of the average property prices in five different areas of Glasgow, including Glasgow City Centre, West End, South Side, East End, and North Glasgow.
As you can see, prices can vary significantly depending on the location. The West End, for example, is known for its trendy cafes, bars, and boutiques, which drives up the cost of property in that area.
Meanwhile, the East End of Glasgow tends to have lower prices due to its history of being a more working-class area. When considering purchasing a repossessed property, it's important to keep these price differences in mind and to ensure that you're getting maximum value for money.
| Location in Glasgow | Average Price |
| --- | --- |
| Glasgow City Centre | £202,994 |
| West End | £325,422 |
| South Side | £181,856 |
| East End | £135,628 |
| North Glasgow | £121,314 |
Why Buy A Repossessed Property In Glasgow?
Investigating and possibly buying repossessed houses for sale in Glasgow can be a smart money-saving idea for several reasons.
First and foremost, these types of properties are often priced lower than other homes on the market. In addition, many repossessed homes require some repairs or renovations, which can further lower their cost. With some work, these properties can be transformed into beautiful homes at a fraction of the cost of buying a new build or market-price property.
Some repossessed properties in Glasgow may be sold with incentives such as reduced closing costs or seller financing. Additionally, because the lender is motivated to sell the property quickly, the buying process for repossessed houses in Glasgow can often be faster than that of a traditional home purchase.
Be prepared to act quickly if you are in the market for repossessed houses for sale in Glasgow. Properties move very quickly and you should be prepared to act.
Finding Repossessed Houses And Flats In Glasgow
There are several places to source repossessed houses and flats for sale in Glasgow. One of the best places to start is by contacting local estate agents who specialise in repossession sales. These agents usually have access to a wide range of properties and can provide valuable advice and guidance throughout the buying process.
It's also worth keeping an eye out for public property auctions of repossessed properties, which can be a great way to find a real bargain. You can register with local property auctions in Glasgow and let them know the type of property you are looking for.
Overall, by exploring these different avenues, you should be able to find a range of repossessed houses and flats for sale in Glasgow to suit your budget and requirements.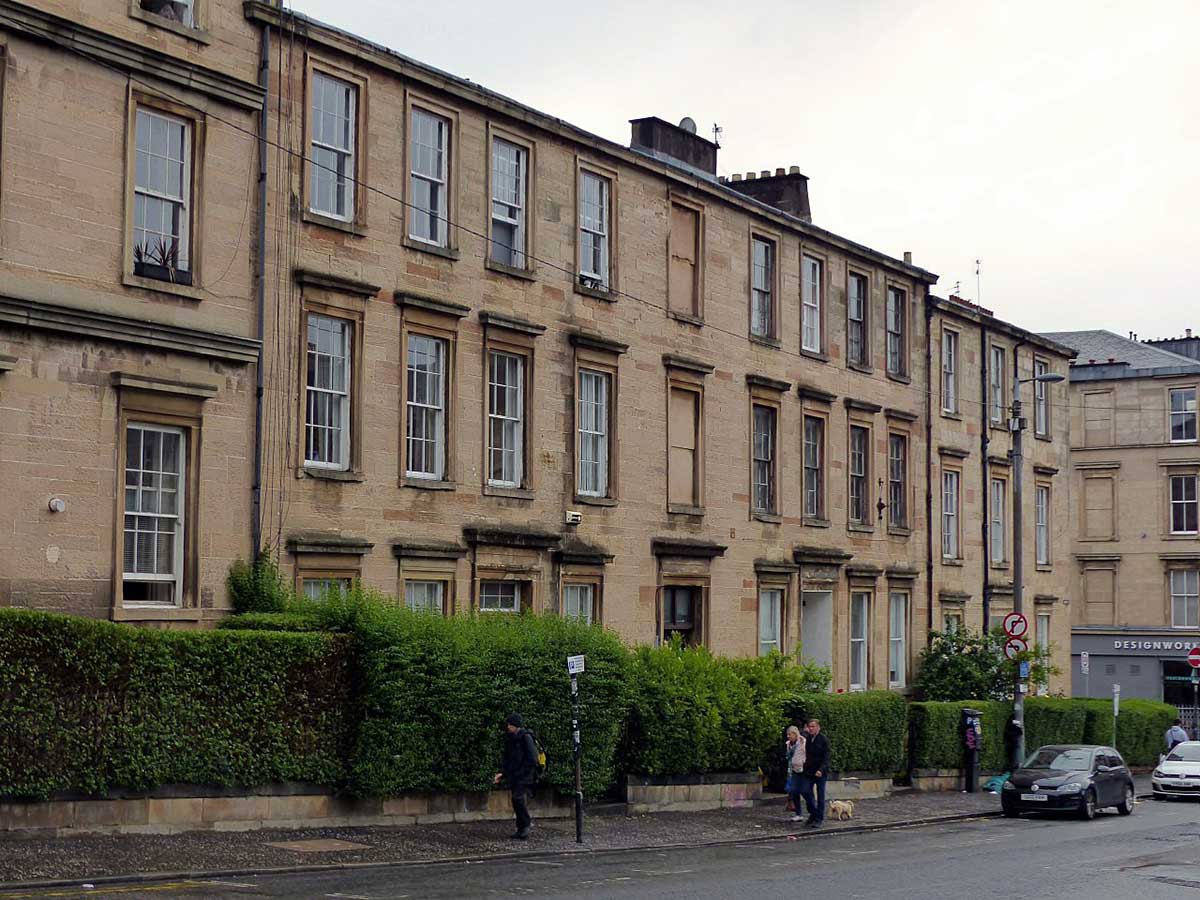 Types Of Repossessed Property in Glasgow
As with any major city in the UK, there are a wide variety of repossessed houses for sale in Glasgow as well as many other types of property. Let's take a look at the kinds of properties available:
Flats: These are self-contained living spaces typically found in high-rise buildings or multi-unit complexes. In Glasgow the flats found in many parts of the city are often made of high quality stone.
Houses: Standalone properties that can range from small terraced houses to larger detached homes are the most common type of repossessed houses for sale in Glasgow.
Commercial properties: These include office buildings, warehouses, shops, and other non-residential properties.
Land: This includes vacant plots of land that can be developed into residential or commercial properties.
In general, these types of properties may be repossessed if the owner is unable to keep up with their mortgage payments or other financial obligations.
When a property is repossessed, it is typically sold at a discounted price in order to recoup some of the outstanding debt. As a result, these properties can often represent a good value for buyers in Glasgow who are looking to get into the property market.
Finding Bargain and Cheap Houses in Glasgow
If you already have the means in place, the best course of action is to register with the local property auction houses to begin with. Be sure to let them know you are specifically interested in repossessed houses for sale in Glasgow.
Many of these auction houses will contact you if they believe a property of interest is suitable and matches your requirements. Remember that property is repossessed all the time and every week there could be new opportunities for those who are aware of the local property market.
Useful resources for Glasgow:
Home Page: Repossessed Houses For Sale